The Danish company is operating in 22 countries, but activities in the UK lagged way behind due to Brexit. Now DOG Copenhagen is focusing on the UK market, which is by far the largest market for dog products in Europe.

"10 million dog owners with a total of 13 million dogs. It's a no-brainer. The UK is a high-priority market." So says Jan Bertelsen, founder and CEO of DOG Copenhagen, who in the summer of 2022 decided to become its own distributor of dog equipment in the UK market.
DOG Copenhagen entered the Danish market in 2015 and, over the past 7 years, has built a dealer network in as many as 22 countries. Jan Bertelsen is a long-time dog owner and originally had a dream to build a brand with physical products that were different from the existing standard products. Therefore, he established a brand with products for the urban and active life with dogs.
Expansion is booming in Europe
The first year, Jan Bertelsen spent all his time on the road. The goal was to get out to the dealers and be on the shelves, but it was an uphill struggle to get out and show samples. So instead of pushing his way into dealerships, he changed strategy. DOG Copenhagen went 100% international with a social media strategy and partnered with influencers in Europe and Scandinavia to create demand from end customers – and then something happened.
"All of a sudden, we could see that more and more dog owners were asking for our products at retailers. And when this happened several times, the dealers eventually turned to us. So, over the last 4-5 years we have been working hard to brand ourselves to dog owners in Europe and to also strengthening B2B sales. We do this through an influencer programme, where our ambassadors test our products and market them for us," says Jan Bertelsen.
The latest published accounts show an annual profit of DKK 5.1 million for 2021, compared to DKK 2.1 million the previous year, and an equity of DKK 8.5 million. Both in 2021 and 2022, DOG Copenhagen has been presented with the Growth Gazelle Award of Dagbladet Børsen in Denmark. However, the successful Danish domestic market is not the whole story – about 75% of the turnover comes from exports to Europe, while a smaller part constitutes distant markets such as Japan and Australia.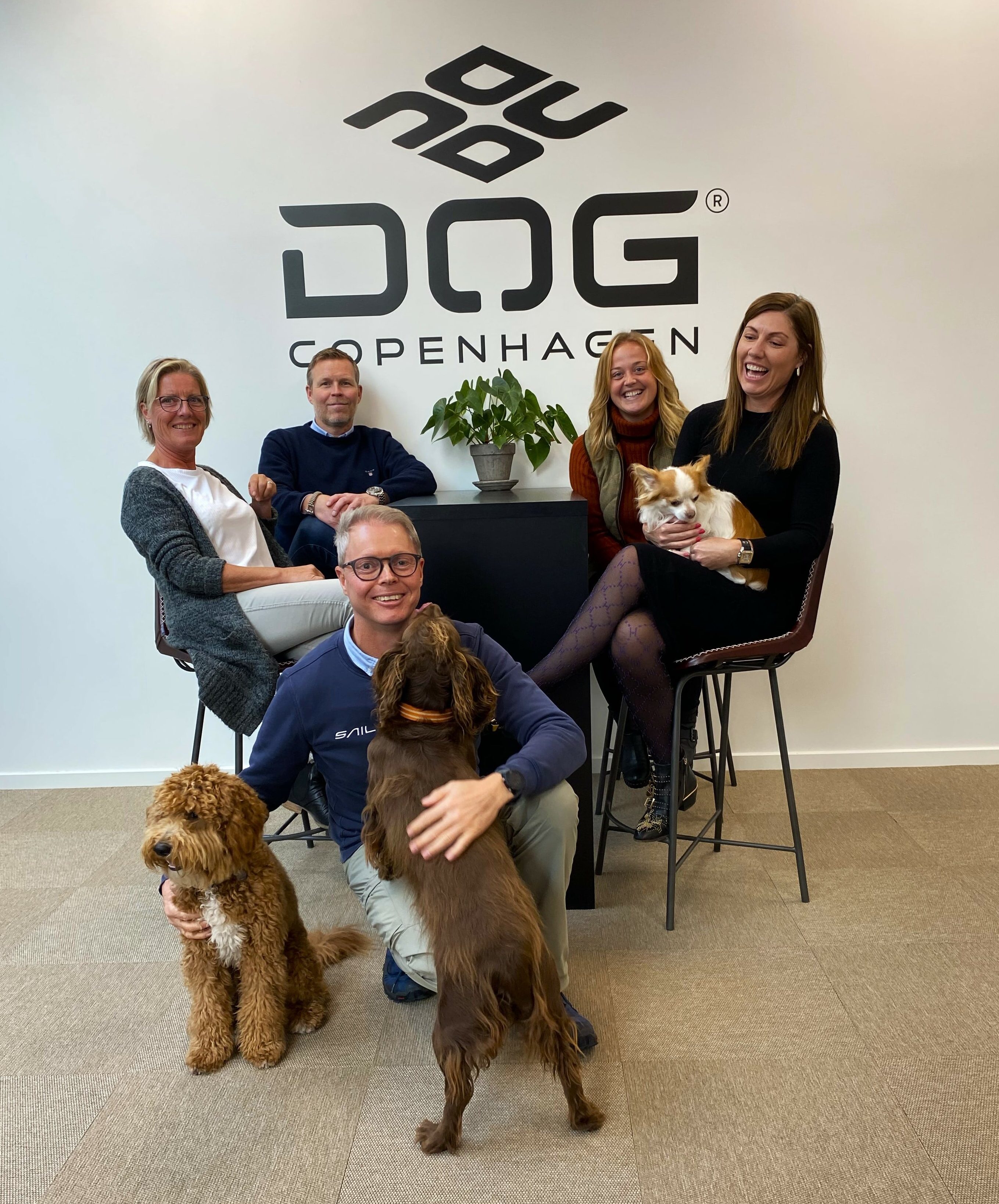 Brexit – a bump in the road
While DOG Copenhagen has been growing in Europe, the UK has been waiting. When Brexit came into force on 1 January 2021, it put a temporary spanner in the works for DOG Copenhagen. The Danish company had to stop sales altogether because it became too cumbersome and expensive to ship goods in and out of the UK.
"We had been quietly building up B2B sales, which our distributor was handling, but we also had to recognise that the market potential was much bigger. At the same time, we suddenly found ourselves in a situation where we had to stop all shipments overnight. The security of supply from the EU to and from the UK was extremely unstable. When our English distributor ordered something that was urgent, three weeks would go by with the goods sitting idle in customs and we were completely powerless," says Jan Bertelsen.
Own distributor in England
This summer, however, DOG Copenhagen switched to becoming its own distributor in the UK. Following advice from CPIE Services, Jan Bertelsen decided to set up a subsidiary and establish a partnership with a fulfilment centre in the UK.
"We expect a lot from our new set-up in England. After just over a month and a half, we have already achieved 40 percent of our turnover for the whole of last year. We are extremely pleased with that," says Jan Bertelsen.
Whereas all DOG Copenhagen products were previously packed and sent individually to the distributor in the UK, all goods are now sent directly from the manufacturer in China, by container, to the warehouse in the UK. This has made the process much simpler, ensured a stable supply, reduced cost on the climate account, and saved time and expense.
"We have received two shipments direct from our manufacturer to our UK warehouse and both have gone through completely smoothly. When it's large consignments that are cleared in one go, it's much easier than when we've sent smaller consignments on a continuous basis that need to be cleared," says Jan Bertelsen.
Great expectations for England
The UK is currently not in DOG Copenhagen's top 10 largest markets. But with the establishment in England, there are completely new expectations, says Jan Bertelsen:
"Our revenue target is for the UK to become our largest market in Europe within the next 24 months. We have no other market than the UK that has more untapped potential right now. It's going to be a long haul to re-establish our brand because the British have got used to not being able to buy DOG Copenhagen products since Brexit. But now we have the right set-up and can already see that things are going in the right direction".
DOG Copenhagen's 3-step approach to the UK
The UK is an extremely important market for DOG Copenhagen, according to founder and CEO Jan Bertelsen. DOG Copenhagen has created a strategy consisting of 3 steps. When step 2, and possibly step 3, will become a reality depends on how DOG Copenhagen does on step 1 with the set-up that is in place today. It is expected that it will be minimum one year before DOG Copenhagen reaches step 2.
Step 1: Establishment of company and fulfilment centre in the UK
DOG Copenhagen has chosen to establish a subsidiary, with a postal address in the UK with CPIE Services, and currently, all operations are handled from our Danish office. DOG Copenhagen has a cooperation with a fulfilment centre, which stocks and handles goods and shipments to customers in the UK.
Step 2. Recruitment of country manager
DOG Copenhagen will employ a country manager who is resident in the UK and can run the business from home, but also be on the road, have customer accountability and handle the warehouse in the UK.
Step 3: Establish sales office in the UK with staff
Then it will be a fully established business.
3 tips for setting up in the UK
Founder and CEO Jan Bertelsen shares his top 3 tips for setting up in the UK.
1. If the market is interesting, jump into it
The easiest thing to do is to operate with a local distributor in the UK, then you save yourself a lot of work. You must assess whether it's worth it and whether the market is interesting enough for the company for it to go the extra mile to make itself available on the English market.
If you're not sure, you should do a market study to find out whether it's really worthwhile. If you have no doubt that the UK is a large and important market for your business, then you should get started. The sooner the better, I would say.
Having been in the market before we set up, we knew it was a high-priority market. We run a basic approach to assessing the capacity of the market. We look at the number of dogs and dog owners and the economics of the country per citizen. In the UK, there is a relatively good economy and a huge number of dog owners. There are 10 million dog owners who have 13 million dogs. So, in isolation, it is the biggest market in Europe for dog products.
2. Seek professional help for the establishment process
Make sure you get professional help instead of spending time figuring it all out yourself. The UK authorities can be very fussy. Filling in a form slightly incorrectly or wrongly ticking a box means you don't get the business properly registered from the start which can cause an incredible amount of hassle. So, my short advice is seek professional help and pay whatever it costs. It will pay for itself in no time in terms of time, hassle and cost savings.
We have been very grateful to CPIE Services for helping us get off to a good start. They have overseen setting up our company and bank account – which is quite a hassle if you don't understand the process. At the same time, they help with administration, contact with the authorities and postal services. CPIE Services has also helped us find a good accountant to do our bookkeeping in the UK.
One of the reasons we chose CPIE Services was that the company has a solid knowledge of how to run a business in Denmark and Scandinavia.
3. If you have products, use a fulfilment centre
If you have a business that has products which are shipped to consumers, I would definitely recommend that you make it easier for yourself by partnering with a fulfilment centre, instead of setting up your own warehouse.
From the beginning, we have outsourced everything in connection to our shipments. All our products to the EU are now shipped from a fulfilment centre in Denmark. It is much more laborious to get started if you have to do everything yourself. A fulfilment centre is a good entry-level way to get started in the market. If sales go well and things take off, you can then make the very large investment and set up a warehouse yourself.
However, working with a third-party warehouse partner is also complicated, and you become more or less 'married' to each other because the warehouse systems need to talk to each other. It is therefore important to spend time finding the right partner. It's a matter of trust. That's why, when we set up in the UK, we visited the fulfilment centre we use now before we made an agreement, to see the premises and meet the staff. You simply must dig a little deeper.
About DOG Copenhagen
DOG Copenhagen spends a lot of time developing products with new, exciting design features that are a little different from what you typically see on the market. This often creates additional sales. The products are often popular with dog owners in big cities, but also with active dog owners who go for nosework and agility.
Brief facts about DOG Copenhagen:
Founded in 2015 by Dane, Jan Bertelsen.
DOG Copenhagen targets dog owners in big cities and urban areas with an active lifestyle – hence the company name.
The products are sold in 22 countries via retailers and via the DOG Copenhagen website, which is in Danish and English.
 Dealers are mainly in Europe, but there are also a few dealers in Asian countries.
Voted one of Dagbladet Børsens 'growth gazelles' in 2021 and 2022 (A Danish Award).
Production takes place in China, while transport and other logistics tasks are outsourced.
In most markets in Europe, the company works with an agent or distributor.