England became an important market area for Revagroup.io in 2022. London is also the first of several strategic locations in the world where Revagroup.io is establishing an international office.

Revagroup.io is in full swing. In less than 5 years the organisation has grown from two to over 80 employees and today operates 35 property portals in more than 20 countries in Europe and Scandinavia as well as in Canada, Australia and New Zealand.
Although Revagroup.io originally chose to enter the Scandinavian and European markets before the UK, due to Brexit on 1 January 2021, the UK has proven to be a key location for the rollout internationally.
Indeed, London has become part of a strategic drive to attract the best and brightest to other local markets. Director Jan Revald thus expects the London office to grow faster than the UK business in the coming years.
"The labour market in Denmark is red hot. When we post vacancies, we don't get many candidates. We have hired 40 new employees over the past 12 months, and only 2-3 of them are from Denmark. London is a metropolis with many international companies and a huge talent pool. This has been a clear advantage for us as we face continued growth internationally."
At the same time, London's multicultural nature makes it easy to find talent that can also serve other local markets around the world.
UK in top 10
Although England is not Revagroup.io's primary market, it is still among the top 10.
"After just a few months, I feel very strongly that starting up in the UK is the right decision. We will be much closer to the local English market and there is no doubt that the English market will be in the top 10 and sit nicely in our overall business."
What have been the biggest challenges?
"Starting up in the UK has actually been easy. From making the decision to having a company in place, hiring the first employees, finding an office, etc. took about 3-4 months. We used CPIE Services to set up the company and manage everything that goes with that. There was just that bit extra to deal with around payroll as there is a requirement for company pension schemes when you get UK staff. But that hasn't been a problem as such."
Head office in London
Since Revagroup.io has been based in Denmark, the head office is still in Copenhagen. However, Jan Revald does not rule out the possibility of the London office becoming the company's international headquarters.
"The people we are recruiting now often come from companies that have been through a similar journey but are further ahead than us. At some point, many companies become too big and too square for some talent, and that is now to our advantage," Jan Revald says, adding:
"It's limited how many companies in Copenhagen have been on the same journey of growth that we are currently on. In London, it's therefore a bonus that we can draw on experience we don't have ourselves, and that's just another reason to locate our international headquarters here in the future."
Great expectations for growth
In 2021, the total profit of Revagroup.io was just under €1.2 million. In 2022, management is looking towards a 50% increase in profit and a doubling of revenue compared to last year. In 2024, Jan Revald expects Revagroup.io to reach a total turnover of 40 million euros. He is thus also optimistic about expectations for the future – despite the energy crisis and high inflation.
"People still have to move house, whether to live together or apart, moving out of student accommodation etc. We see no signs of a crisis in our industry. We also expect to grow from the three employees in London today to 15-20 employees by 2024."
International community with other Danes
Although Revagroup.io is based in London, Jan Revald still has a strong desire to create an international community with other Danish and Nordic companies.
Jan Revald sees great synergy in joining forces with other Danish or Nordic tech companies that have similar ambitions and are therefore ready to establish themselves on the UK market. Ideally, he dreams of setting up his own office with similar Danish or Nordic emerging companies.
"Right now we are looking for other companies that are interested in building a community in London – a single base for our employees, where we can also exchange experiences and knowledge and benefit from shared services such as a reception, payroll, recruitment, facilitation or other shared functions that make sense and can strengthen the business," says Jan Revald.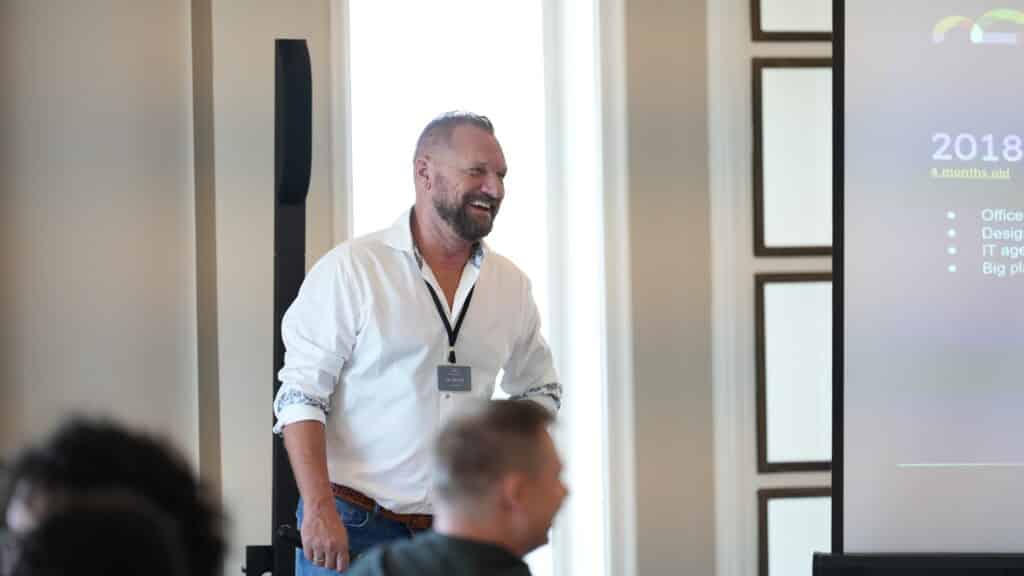 3 useful tips for setting up in England
1. Get help setting up
"Do what you are good at and seek help where needed. In connection with establishing a company in England, it made perfect sense for us to get help from CPIE Services. This is a good service where you get professional answers quickly. We probably could have done it ourselves and most likely saved money, but at the end of the day, I don't think we would have saved anything in practice, considering the time and hassle involved. Quite the opposite! This has been both easy and painless."
2. England is easy to start up in
Compared to France or Finland, for example, England is an easy country for Danes to enter. The English way of thinking and approach to different things is not that far from the Danish way. And as Danes, we are very well liked by the English. For us it has been a pleasure to come to England – and it's just a bonus that we can fly to London in an hour from Copenhagen and have access to a much bigger market. As we already operate outside the EU, Brexit has not been an obstacle, but may have meant that we got started a little later than expected."
3. Talent pool is larger in a metropolis
"If you have an international company, it can be an advantageous to look for labour where the size of the talent pool is greatest. The range of skilled employees is far greater in London than in Copenhagen. Therefore, we are finding that the chances of getting a good match for both us and the employees are significantly higher."
About Revagroup.io
Revagroup.io was founded in 2018 and currently manages 532,145 rental listings internationally. Revagroup.io optimises and streamlines processes for tenants and landlords on rental property markets in 20+ countries, via 35+ housing portals and for 8,000,000+ monthly users (renters and landlords).